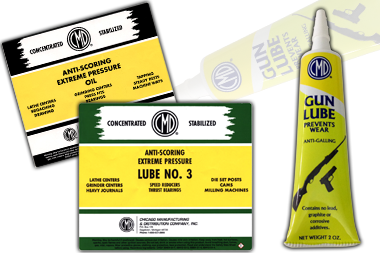 EXTREME PRESSURE ANTI-SCORING LUBRICANTS WHEN THE SQUEEZE IS ON FOR HIGHEST PRODUCTION
Increase production – no galling . . . Users report savings up to 81% over commonly used lubricants.
Cams + Machine Ways + Heavy Journals + Burnishing + Lathe Centers + Milling Machines + Wire Drawing + Gear Cutting + Gear Grinding + Steady Rest + Swaging + Pilot Bars + Speed Reducers + Ring Gages + Thrust Bearings + Broaching + Die Set Posts + Deep Drawing + Bandsaw Guides + Tapping + Anti-Friction Bearings + Extruding + Plug Gages + Grinding Centers + Screw Machines + Rivet Spinning + Screws and Nuts + Lead Screws + Stamping + Press Fits + Thread Gages
CMD anti-scoring lubricants are not ordinary lubricants.
They are compounded of highly refined petroleum products containing no lead, graphite or minerals.  They will not corrode the finest surfaces nor will they emulsify with cooling liquids.

CMD is a high pressure lubricant with special properties for maintaining a thin film of lubrication on sliding or rotating parts.  Using CMD will help eliminate wear / scoring and galling on operating mechanisms, even after continued rapid firing.